Hi! Oracle Bleu Seis is back! and today i'll be covering for you guys the PS keyboard shortcuts.
PhotoShop has many many tools at your disposal, and are offering even more with every release. With all these tools at your fingertips, it is good to know the quickest way of getting to them. This is where Keyboard Shortcuts can come in very handy. At the press of one, two or three keys, you can select a tool or apply a filter without moving your mouse across the screen and clicking and finding.
This tutorial is aimed at CS3 Extended, primarily, but the majority of shortcuts will be the same in older versions as well. You will learn the most common keyboard shortcuts in this article, as well as some of the lesser-known ones.
So let's get started and open up PhotoShop.
If we then goto the File menu, you will see to the right of almost every option, there is a listing of the Keyboard Shortcut for this command: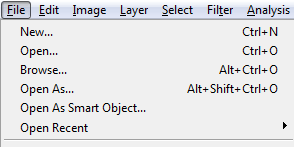 You'll notice that to create a New document, we can simply just press Ctrl+N. So exit out of the File menu and then press and hold Ctrl, then hit N. We will then be asked for the dimensions of our new document.
Now once we have our new document open, we can save by pressing Ctrl+S - or we can Save As by pressing Ctrl+Shift+S. This will prompt us for a filename.
We can also close the current document by pressing Ctrl+F4. If the document has not been saved, but changes have been made, we will be prompted to save before it closes.
We can also switch between document window with Ctrl+TAB, similar to how we use Alt+TAB to switch between different applications in Windows.
Next, if we hover our mouse cursor over any tool in the toolbox on the left, we will be shown a tooltip with the keyboard shortcut in parentheses. For example, to choose the Move tool, simply press V.
The shortcuts to the most common tools are as follows:


Tools Shortcuts

Selection Marquee M
Lasso L
Quick Selection W
Crop C
Slice K
Healing Brush J
Brush B
Clone Stamp S
History Brush Y
Eraser E
Gradient/Paint Bucket G
Blur/Sharpen R
Dodge/Burn O
Pen P
Text T
Path Selection A
Line/Shape U
Notes N
Eyedropper I
Hand H
Zoom Z*
Quick Mask Q

*We can also zoom in and out of the current document by pressing Ctrl+ and Ctrl-.
We can also reset the colors of the palette by simply pressing the D key. This will revert the foreground color to Black and the background color to White.

Now if we click on the Edit menu we will find the keyboard shortcuts for these commands, also. The most common are listed below.
Common Menu Shortcuts
Cut Ctrl+X
Copy Ctrl+C
Copy Merged Ctrl+Shift+C
Paste Ctrl+V
Undo/Redo Ctrl+Z
Undo Ctrl+Alt+Z
Free Transform Ctrl+T
Deselect Ctrl+D
Select All Ctrl+A
Select Inverse Ctrl+Shift+I
Preferences Ctrl+K
Merge Layer Down Ctrl+E
Merge Visible Ctrl+Shift+E
New Layer Ctrl+Shift+N
Duplicate Layer Ctrl+J
Apply the last Filter Ctrl+F
The Copy Merged function will copy a selection including all layers no matter which layers you are currently on.
Select Inverse will reverse your current selection so that you are selecting the opposite.
Merge Layer Down will combine the current layer with the one below it. This will apply Layer Styles so you are no long able to edit them on the merged layer.
Merge Visible does similar to the above, but it will combine all visible layers into one.
In addition to the default keyboard shortcuts in PhotoShop, we are able to customize them to fit our own preferences. To do this, goto Edit > Keyboard Shortcuts (or press Alt+Shift+Ctrl+K).
From here, you can add, edit and delete for the Application Menus, Palette Menus, and the Tools. If at any time you want to revert back to the default settings, you can choose PhotoShop Defaults from the Set menu at the top, or hold Alt and click the Cancel button that turns into Reset.
A useful shortcut when viewing large images or when you're zoomed in is the spacebar. Holding spacebar and clicking and dragging around the canvas will allow you to use the Hand tool to pan around without constantly choosing the Hand tool from the toolbox, or messing around with the scrollbars.
And that's it for today I hope i helped you guys again!
ENJOY:)